Our People are Our Business
With over 30 hardworking employees, we strive to put our people first. We have a commitment to safety and ongoing training to ensure each employee has the opportunity to build their KASH (Knowledge, Attitudes, Skills, and Habits) to be the best they can be for themselves, their families, the company, and our customers.
Our Core Values. Our core values guide us both personally and professionally.
Our Platinum Rule. Do unto others as others would like.
Family First. At Raphael Industries, families will always come first.
Accountability. Do what we say we will do, we live by our commitments. Say it - Live it. 
Integrity. Doing the right thing guides decision making and working fairly and honestly with fellow employees, customers and suppliers.

Sustainability has been inherent in our processes for decades  - it's the nature of our business. We decrease manufacturing costs for OEMs by refurbishing parts and enabling them to be re-used.
According to the Environmental Protection Agency (EPA), we are designated as a Small Quality Generator of Hazardous Materials. We adhere to OSHA regulations and maintain compliance with the EPA. Our wastewater treatment system is compliant with EPA and Milwaukee Metropolitan Sewerage District regulations (MMSD).
We are continuously pursuing new ways to improve our sustainability. Our newest initiatives include re-routing portions of our waste streams that go to landfill and upgrading our office shop lighting to LED lights.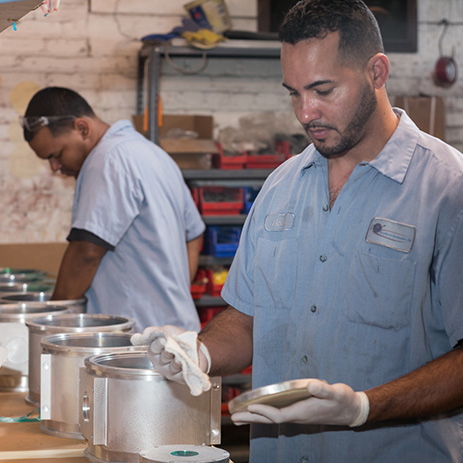 Raphael Industries, Inc.
2162 South 54th Street
West Allis, Wisconsin 53219
Monday – Thursday: 5am – 3:30pm